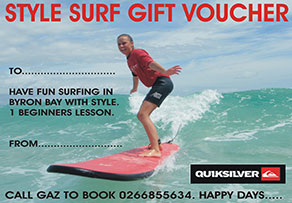 THE ULTIMATE SURF LESSONS IN BYRON BAY ARE WITH STYLE SURF…



Learn to Surf in the waves in Byron Bay.
Style Surf is a Locally owned, Family business, operated by Long Time Byron Bay locals.
"The Bay" inside Cape Byron has the safest and longest breaking waves in Oz.
We have surfed Byron Bay since the 1970's
Teaching surfing skills since the early 1980's.
SAFEST: Our Surf Lessons are the Safest & Best for your surfing Experience.
BEACHES: The Pass, Clarkes Beach, Wategos, The Wreck, Belongil & Tallows.
LOCAL INSTRUCTORS:
All Style Surfing Instructors are Long Time Byron Bay Locals who know Byron Bay Best.
WE WORK FOR YOU: Style Surfing School is at "YOUR" Service. We don't want to be the biggest, we just want to stay the Best.
SMALLEST GROUPS: Maximum of 10 Beginners with 2 Instructors which is the best Student/Instructor Ratio.
100%  HELP: Instructors in the surf 100% of the lesson helping you with every wave & keeping you safe.
100% SATISFACTION: All participants WILL stand & surf during their first lesson or your $ back.
NOT BYRON BAY: We have some 'So Called' Byron Bay Surf Schools that drive U out of Byron Shire to teach surfing lessons.
Do you want to sit on a bus for 1 hour extra during your surf lesson.. No Way…..
Happy Days in Byron Bay.
Phone GAZ: [+61 2] 6685 5634
Mobile / SMS 0416 162 969
Email: stylesurf@bigpond.com
Happy Days in Byron Bay.