BECOME A SURFING INSTRUCTOR
ASI Surfing Instructor Courses
ASI Surfing Instructor courses are regarded as the best worldwide, with comprehensive information covering surfing skills, instructional techniques, operations and safety.
Complete your training with ASI, with courses to suit your skill, ability and passion.
Choice of delivery options: workshops, flexible learning correspondence, apprenticeshop, transfer/update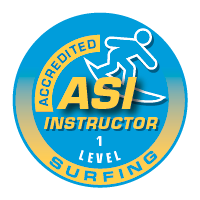 This is the entry level qualification to work as a surfing Instructor. Instruct beginner surfing sessions. You will need to have surfing skill and knowledge equivalent to ASI Level 6 intermediate surfing level.
Delivery options:
Workshop
Flexible Learning
Apprenticeship
Transfer / Update