Gaz Morgan who is from a long time local surfing family is the owner / operator / instructor at Byron Style Surf School.
We Surf at Clarkes, Belongil & Tallow Beaches in Town.
Hi Mates, Gaz here from Byron Style Surf letting you know that I want to make sure you get the best surfing lesson in town if you really want to??
We only have a maximum of 10 surfers for 2 Instructors per class.
No other surf instructor in Byron Bay has spent more time in the waves, teaching surfing skills than me…
I am proud to be the best and not worried about being the biggest as I care about your surfing more than you do..
If the surfing conditions are not good for you, I will not take you.
I have a 100% refund policy if the classes are cancelled because of bad surf.
I know how to make sure you the have the Best Surf Session..
I have been surfing Byron Bay for over 40 years & know where & when the best waves are for your lesson.
I have been teaching Surf Life Saving & Surfboard Riding Skills since the 80s'.

I have worked in the Surfboard Industry since the early 80's in Byron Bay with my brother John Morgan at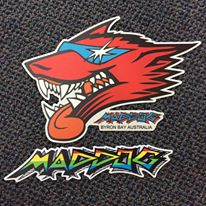 Style Surfing students wear the RED Surf-Shirts along the beaches of Byron Bay.
Take a look, before you book, and remember it is Happy Days in Byron Bay Surfing with Style…