Hi Mates, Gaz here and welcome to Style Surf School in Byron Bay.
PLEASE BE AWARE OF THE FALSE ADVERTISING ABOUT BYRON BAY SURF LESSONS.
THERE ARE ONLY 4 SURFING SCHOOLS IN BYRON BAY THAT HAVE GROUP LESSONS IN BYRON BAY.
1.STYLE SURFING SCHOOL. 2. BLACKDOG SURFING. 3. BYRON BAY SURF SCHOOL. 4 LETS GO SURFING.
All other Operators hold a Licence in Ballina or Tweed Shires, but they don't tell you this?
We are Number 1 of the 4 Surf Schools that do hold a licence to teach surfing in the waves in Byron Bay. We have been owned and operated by Gaz & V since 1999 so please "Look before you Book" to make sure you are getting the Real Deal in Byron Bay Surfing Lessons.
Style Surf DOES NOT have a "BOOK NOW" button as we want to keep your surf bookings personal and cater for all your different levels of your surfing needs.
Please Text Gaz Direct on 0416162969 anytime for any bookings & enquiries.
We are OPEN from 8am to 8pm 7 days a week.
Happy Days, Gaz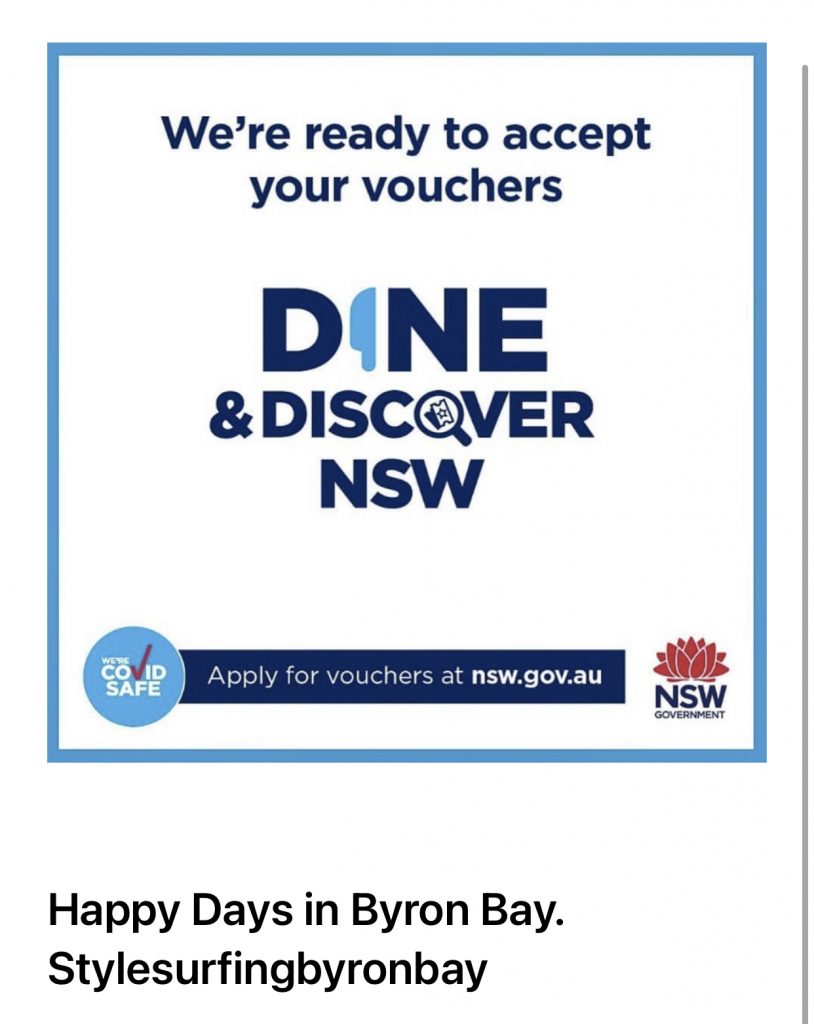 If there is one thing you must do in Byron Bay, it's to learn how to surf! 
Byron Bay is renowned as one of the best places in the world to learn to surf, thanks to the gently rolling waves, crystal-clear warm water, and relaxed vibe.  And if that isn't enough, then perhaps it's the chance to share a wave with a resident dolphin and a few sea turtles that will get you in the water!
Style Surf is a Byron Bay family owned & operated business and is 1 of the 2 original surf schools in Byron Bay and Style Surf has been operating in Byron Bay for the past 22 years.
Gaz knows 'The Bay' better than any other Surf School, he has been surfing here and the North Coast since the 1970s.
Style Surf is not a Mobile Surf School as we have the Best waves right here in town for the Best Surfing lessons.
That's right, we surf in town each and every day, always have and always will.
Cape Byron Headland offers protection for the Best, Longest and Safest waves for learning or advancing your surfing skills. #100%byronbaysurfinglessons.
Style Surfing is proud to be Byron Bays' longest running school that has been owned & operated by the same local family that know more about surfing in Byron Bay than any other Surf School by far. Style Surf isn't a franchise, it's a business that was born and bred in Byron because Surfing and Byron are a match made in heaven.
To that point, not every surf school based in Byron can surf in Byron Bay.   
That's right!!  Only 4 surf schools can surf in Byron Bay in Group sessions, the rest must travel out of the area for group lessons, and that's why they advertise this mobile thing?
Other schools use false advertising to promote their business through Byron Bay, but they go to Lennox Head & Ballina, these are big open beaches and do not have the protection of The Cape to produce the small, sweet and easy waves to learn like we get at Clarkes Beach in the town of Byron Bay. 
Lennox Head and Ballina beaches are beautiful with a Surfing Reserve and some of the best waves in Oz on the Point, but only for the experienced surfers.
All of my mates from Lennox Head & Ballina have bought their kids to Clarkes Beach when they were learning to surf.
Always Look before you Book to check out the 'Real Deal Surf Schools' in Byron Bay. 
Style Surf caters to all ages and abilities: kids, teenagers, adults, grandparents, 5 to 95 years of age.
3 Hour Group Surf Sessions are only $70!
2 Hour Private Surf Lesson in Byron Bay $200 then $100 for each extra surfer.
The Best way to book is Text or WhatsApp to Gaz direct on 0416162969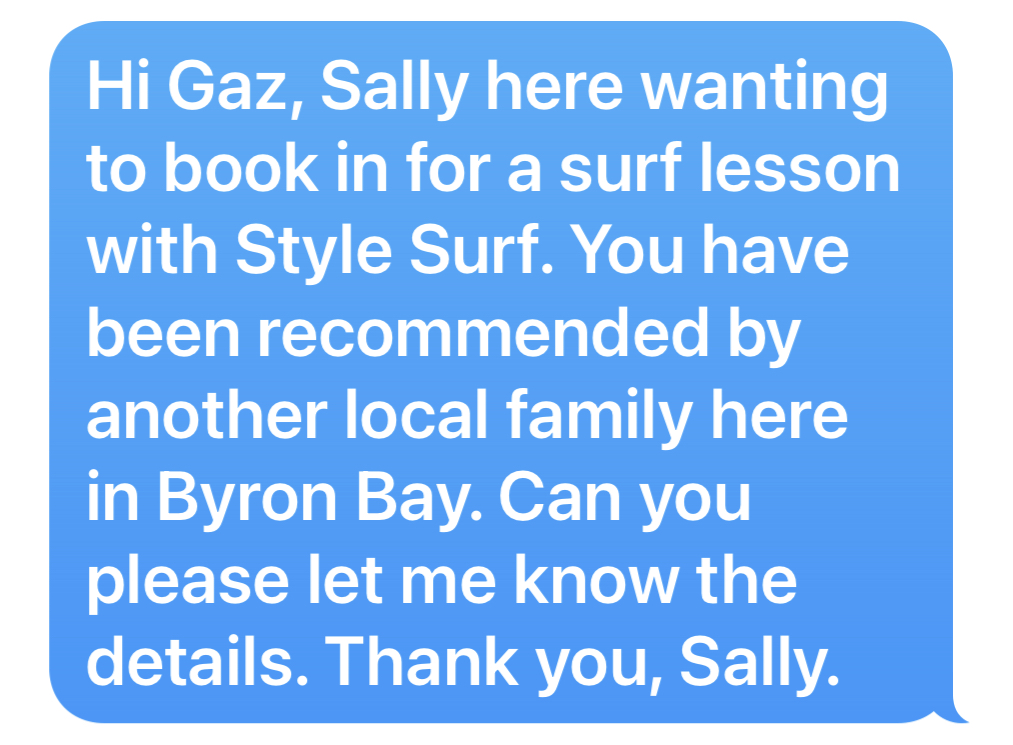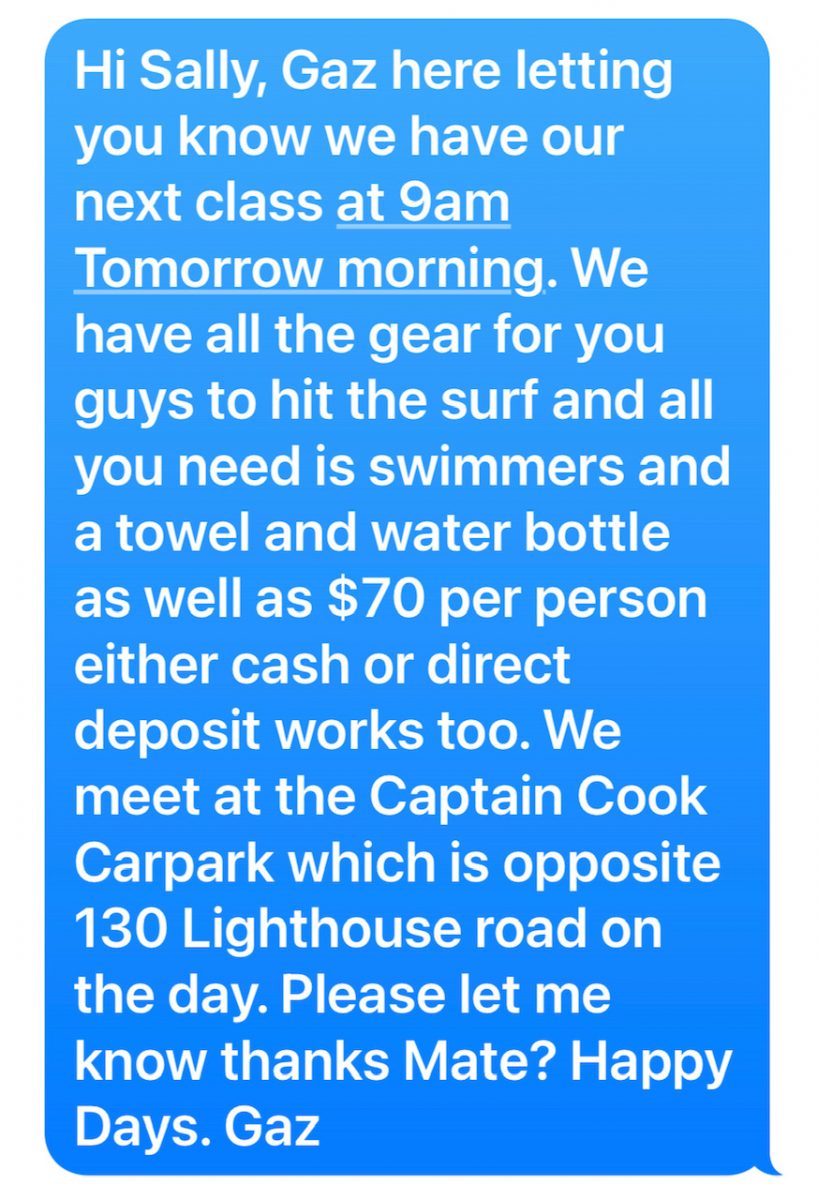 Style Surf does not have a BOOK NOW BUTTON as we want to keep our Surfing Services Personal for our Customers.